Back To Menu
Shrimp Platter
Grilled or fried shrimp served with coleslaw, tarter and cocktail sauces and choice of one side 
(add flounder for $3.50) 
grill my shrimp
fry my shrimp
Add fried flounder
+$3.50
Add grilled flounder
+$3.50
Choose 1 Side:
French Fries
+$1
Sweet Potato Fries
+$1
Onion Rings
+$1
Side Garden Salad
+$1
Mashed Potatoes (dinner only)
+$1
Fried Okra
Salad Dressings:
Caesar Dressing
Ranch Dressing
Blue Cheese Dressing
Balsamic Vinaigrette Dressing
Citrus Vinaigrette Dressing
Champaign Vinaigrette Dressing
Honey Mustard Dressing
Russian Dressing
No Dressing
Have you tried this item? Pop it!
Help other diners know what to expect by sharing your experience.
7 people have popped this item
Photo Gallery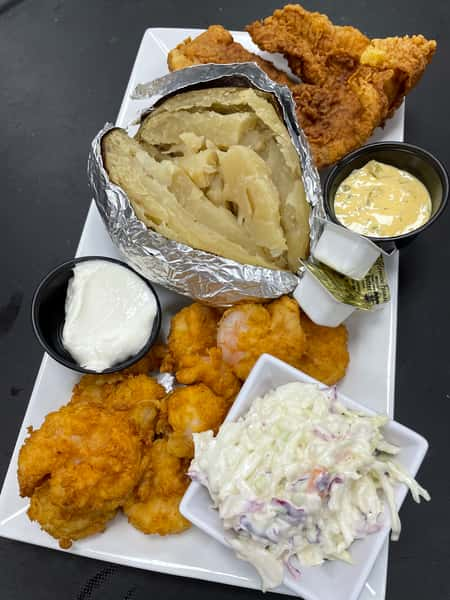 Back To Menu
Shrimp Platter
Grilled or fried shrimp served with coleslaw, tarter and cocktail sauces and choice of one side 
(add flounder for $3.50) 
grill my shrimp
fry my shrimp
Add fried flounder
+$3.50
Add grilled flounder
+$3.50
Choose 1 Side:
French Fries
+$1
Sweet Potato Fries
+$1
Onion Rings
+$1
Side Garden Salad
+$1
Mashed Potatoes (dinner only)
+$1
Fried Okra
Salad Dressings:
Caesar Dressing
Ranch Dressing
Blue Cheese Dressing
Balsamic Vinaigrette Dressing
Citrus Vinaigrette Dressing
Champaign Vinaigrette Dressing
Honey Mustard Dressing
Russian Dressing
No Dressing
Back To Menu